The biggest enterprise started with the bare thread of an idea. Then, after years of commitment and hard work, what began as a vision became the fabric of reality. Founded over 40 years ago, the Skaff group of companies was initially established to specialize in the import and retail of decorative textiles. Today, Skaff operates as a retailer with 10 outlets scattered across Lebanon and in Dubai, Qatar, Kuwait, UK, Saudi Arabia, Jordan, Oman, USA and Singapore.
Under Skaffgroup, Skaff sal. acts as the importing company for the group, while Skaff A L'etage, our sister company, specializes in the import and retail of ethnic furniture, bamboo sets, tables and accessories. Skaff Les galeries offers a fusion of modern and contemporary furniture as well as chinese antiques.
Moreover in 2003, an office showroom devoted to interior designers, architects and consultants opens in Dubai. Most of the largest palaces and hotels in GCC are undertaken by Skaff.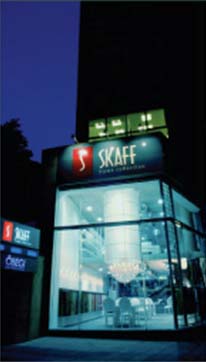 Meanwhile Skaff becomes a fabrics wholesaler, self design distributor, producing and distributing sample design books worldwide.
In 2005, an agreement is signed with world nenowned english editor of fine fabrics, Daniel James, Skaff participates at the index interior Design Show in Dubai.

In 2006, Skaff attends the interior design show in Birmingham, England and the collection is carried by Horrods in London. Later this year, skaff opens another door in Lebanon - Tabaris luxury district area, a showroom specially designed for architects and Interior designers.

In 2007, skaff opened a franchise in Jeddah, Saudi Arabia. Many more branches are scheduled topen in KSA.

In 2008, skaff opened a new showrrow in Lebanon, in the Dbayeh area.

Our unique and comprehensive range of designs is the perfect match for your special taste